Welcome to the David Eccles School of Business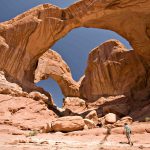 Tourism is a big part of Utah's economy, but a new analysis shows it's even more essential to communities in rural Utah, where a large percentage of their income is tourist-based.
Analyst Jennifer Leaver discusses her findings in the podcast below. Click here for a press release about her findings as well.

Podcast Transcript:
Eccles School: Welcome to the...
continue reading...
The University of Utah is set to announce The Policy Institute, an institution created to provide independent economic, demographic, and public policy decision support across Utah. Housed within the David Eccles School of Business, the new institute will bring together the Bureau of Economic and Business Research (BEBR), and the Center for Public Policy & Administration (CPPA).
The institute's mission will be to support informed decision-making that will strengthen the...
continue reading...
In The Spotlight
Upcoming Events